By Tyler Jefford
On December 14th, 2022
---
Relaunch
In 2020 I rebuilt my blog and started to post regularly. I wrote about technology I was working on with using Laravel and Tailwind. I wrote tips on how I stay organized and manage stress through hard times and shared a bunch of links to books, articles and other fun stuff over the year. Work got really hectic and I stopped posting weekly, then fell off completely.
So I spent the last couple months rewriting the blog using Statamic and building up a list of articles to write. I spent some time to refresh the design a little bit, add categories so its easier to find similar content and then made the content more readable with better fonts, sizes and color contrasts. I even built a fun background selector so I can have some posts stand out if you're reading them on my site, and not a feed reader.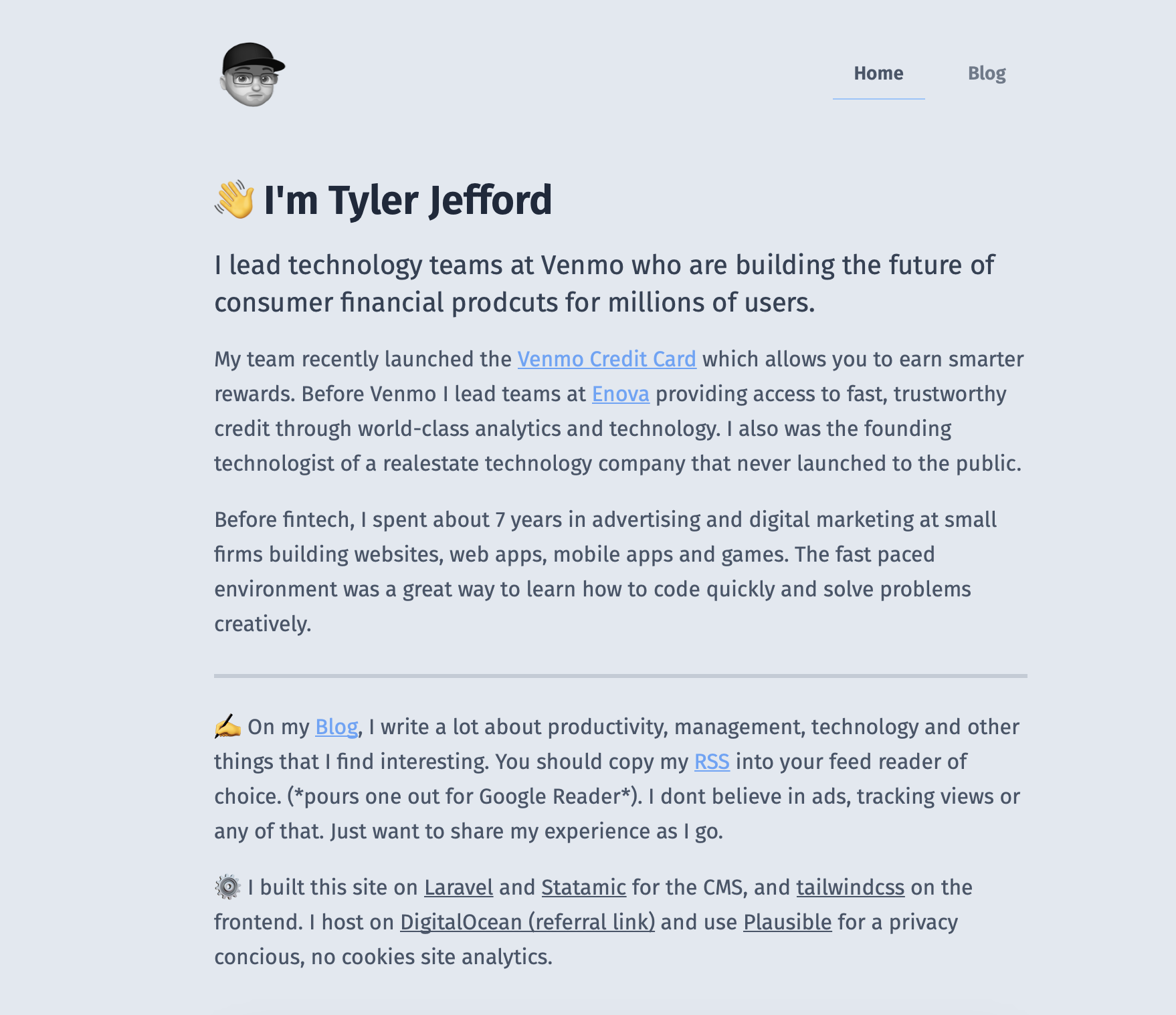 2023
In 2023, my commitment is to share a post per week for the entire year. I may miss a week or two, but thats the goal I have for myself. I have a list of topics I am going to write about including a new version of staying organized, journaling and a host of new posts about people management. I also have some new stuff planned for how I use Notion in my work and personal life, more monthly reviews with links on things I find interesting and some deeper dives on topics like tech productivity, privacy and more.
RSS
The best way to keep up to date with me is to subscribe to the RSS on your favorite tool. I use Feedly to keep up with everyone since the destruction of Twitter. At this time, I do not plan on joining any other social network - so this is the best place to find me.
Next Up
Starting January 4 you will start to see weekly content posted here, starting with a write up on how I made my Covid tracking website 90% more performant by refactoring some code. See you then!